Our Mobile Ceramic Coating Experience
Bring professional-grade ceramic coating to your door with our mobile ceramic coating service, available throughout Pierce, King, Thurston, and Mason County. Get all the benefits of ceramic coating—exceptional protection, easier cleaning, and showroom-level shine—with the convenience of onsite application at your home or office!
Our mobile ceramic coating service is the most convenient way to get proven protection and jaw-dropping shine! No need to come to our shop—we'll handle the multi-step prep and application process at your location.  Our mobile ceramic coating application brings the same professional-grade formulas, techniques, and equipment from our shop directly to your car, truck, or fleet vehicles.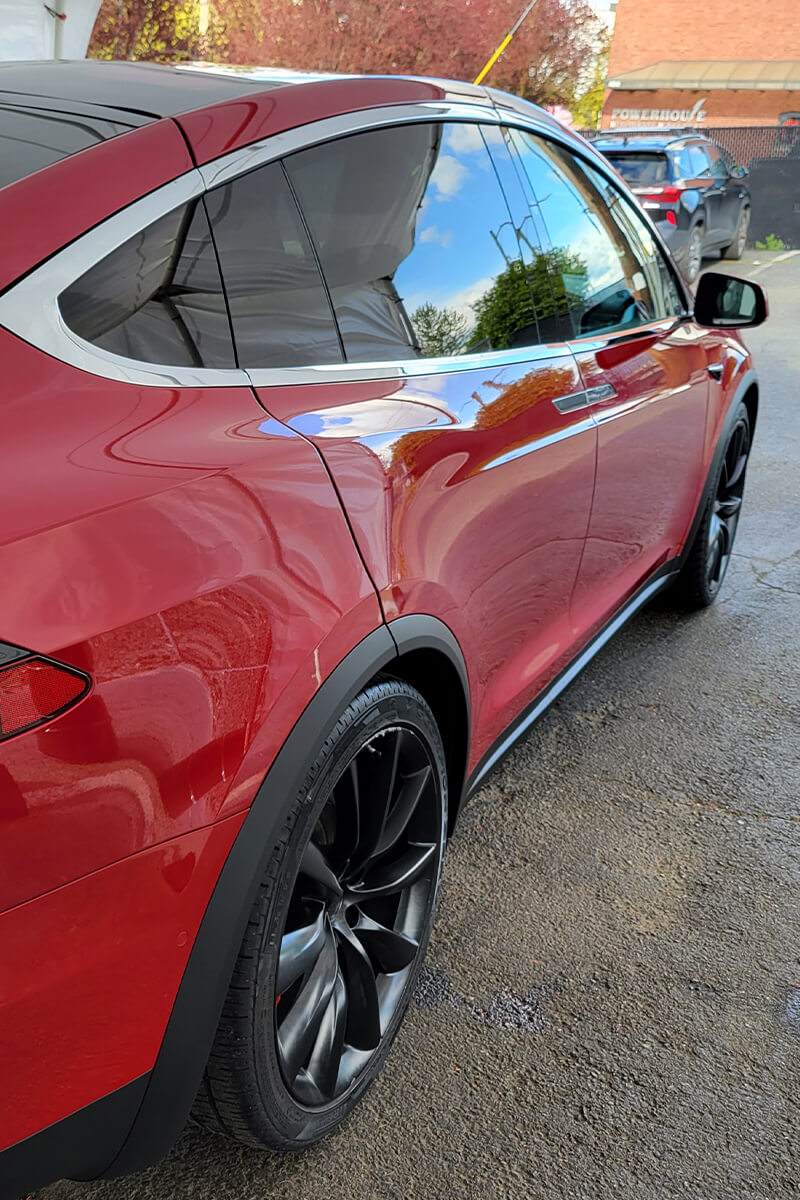 Benefits of Mobile Ceramic Coating
The ceramic coating formulas we use are hydrophobic polymers that molecularly bond to your exterior paint and trim. This creates a durable layer of protection that repels water, contaminants, and hazards like bird droppings that can stain and etch your finish. Coatings make regular washing easier and give paint extra vibrancy. Plus, the durability lasts 6 months to several years depending on coating type.
Unbeatable Convenience
Our mobile ceramic coating service helps you skip the hassle of appointments and transportation. Our ceramic coating specialists come to you, performing the full preparation and coating application right at your home or office. The mobile service provides complete results without you having to schedule appointments or leave your vehicle with us.
Full Service
In addition to convenience, our mobile ceramic coating provides the same full service you'd receive at our shop. We thoroughly wash, decontaminate, and polish your vehicle's paint to ready it for the coating. Our technicians then apply the ceramic coating formula through a meticulous multi-step process focused on achieving complete and even coverage across all painted exterior surfaces. We handle the overnight curing as well.
Quality Work
Our mobile ceramic coating specialists employ the same thorough preparation and meticulous application process perfected in our shop. The full-day service includes extensive paint polishing, multi-step ceramic coating application for flawless coverage, and controlled overnight curing. With proper advance notice, we can provide the same high-quality ceramic coating results onsite that we're known for in our shop.
Our Mobile Ceramic Coating Process
Ceramic coating application is a meticulous, multi-step process to prepare and bond the coating formulas to your vehicle's exterior. Our mobile service allows us to perform the same professional-grade application at your home or office that we would at our shop.
Scheduling – The process takes most of one day based on vehicle size and condition. We recommend scheduling 2 weeks in advance.
Preparation – Thorough paint preparation involves washing, claying, and polishing to remove contaminants and create an optimal bonding surface.
Application – The ceramic coating itself is applied through a multi-hour, multi-step process focused on ensuring complete and even coverage.
Curing – After application, the coating requires 12+ hours of curing time in a controlled environment like a garage. The vehicle must have access to electricity and water during the process. Full-day access to the vehicle is required. Larger jobs may take 2 days.