Our Paint Correction Experience
No matter how well you take care of your vehicle, no paint job is immune to the dulling effects of time. Throughout its life, your exterior paint can amass an abundance of minor scratches, swirls, and other cosmetic imperfections. While they may not be noticeable at first, over time it becomes more obvious how damaged your paint has become. Thankfully, Paint Correction can fix this!
Paint Correction is the process by which imperfections are removed from your vehicle's clear coat after all washing, clay barring, and surface decontamination has been performed. Using the best products available, our skilled detailers remove scratches, swirl marks, hazing holograms, and other imperfections, restoring your vehicle's paint to its former glory!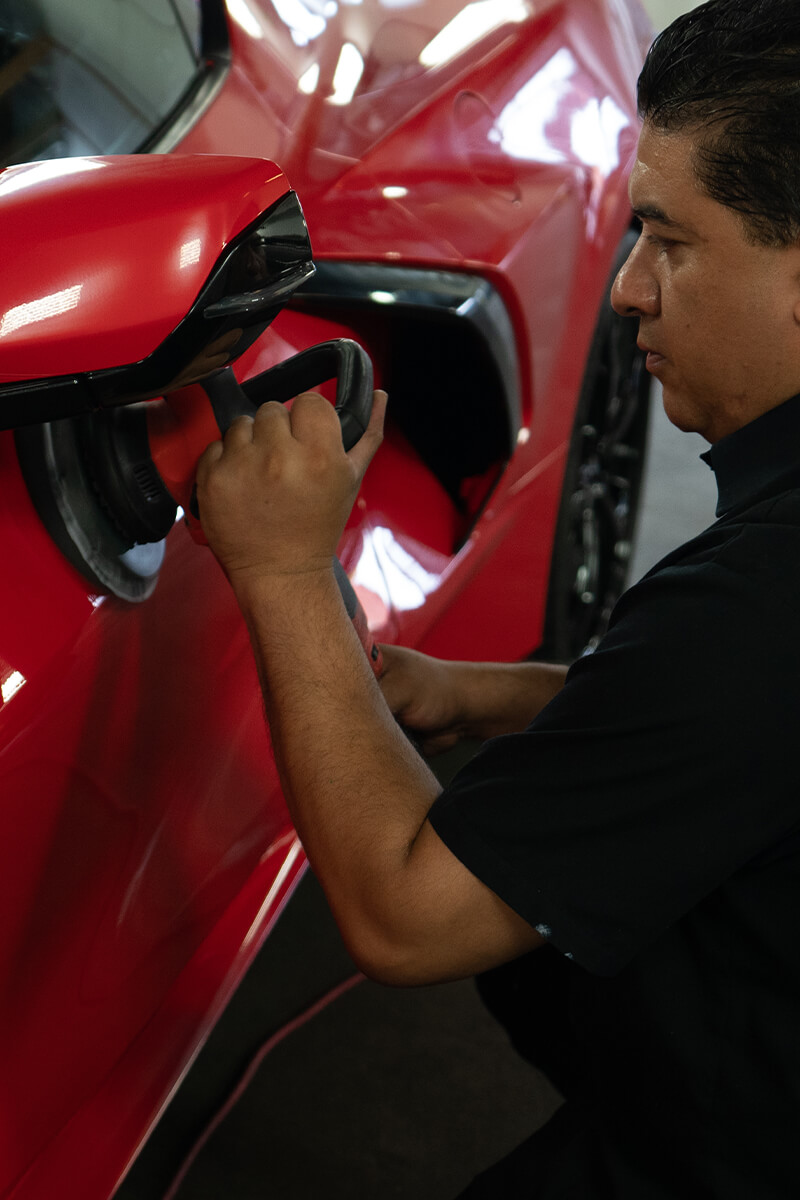 Paint Correction Services
We offer 4 different levels of paint correction. Please note that all below services are add-ons and must be purchased in conjunction with either an Exterior Detail or a Complete Detail:
Single Stage – Our Exterior Detail and Complete Detail packages comes with a single stage of paint correction. This paint correction is designed to assist in clarifying the surface, deepening the color, and restoring the shine of an already decent paint job. Single Stage paint correction DOES NOT remove any defects.

|  Included with Exterior and Complete Detail Packages
2-Stage – This is a 2-step process designed to remove minor imperfections such as light swirling, mild water spots, etc. During the first step, we remove any defects present in your vehicle's clear coat. During the final step, your vehicle is polished for a swirl-free deep gloss.

|  Small -$75, Medium – $90, Large – $120, XL – $150
Diamond Polish – This is a 3-step process is designed to remove more moderate imperfections. During the first stage, we cut out any medium-grade surface imperfections. During the second stage, we clarify the paint. For the final stage, we apply a swirl-free polish.

|  Small – $150, Medium – $180, Large – $240, XL-$300
Full Correction – This customizable paint correction service is for those that want their paint perfect. Designed to remove 90%-95% of all surface imperfections, our Full Correction service and is not considered complete until the desired result has been achieved. This service will vary in time and required stages based on the needs of the vehicle and desires of the owner.

|  Starts at $300 and is $75 for every additional hour
Please Choose Your Vehicle Type Below
Every vehicle is a little different. Some require just a basic cleaning, some need a full detail inside and out, and some require additional care such as a Ceramic Coating. Choose from our wide range of detailing, maintenance, and protection services to customize your detailing experience to suit your vehicle's needs!