Puyallup Ceramic Coatings
Ceramic coating is a liquid polymer that bonds to your vehicle's exterior, creating a protective barrier that preserves its pristine appearance better than traditional wax. Our ceramic coating enhances gloss while protecting from UV damage, water spots, oxidation and more.
Enhanced Protection – Repels liquids and resists UV rays, oxidation, corrosion, bird droppings, sap, salt, and other hazards for prolonged durability.

Easier Maintenance – Dirt, mud, debris, and other contaminants rinse off easily with water instead of sticking to surfaces.

Increased Durability – Ceramic coatings' 6-8+ month durability significantly outlasts traditional 2-month carnauba wax applications.
Our professional ceramic coating services preserve your vehicle's showroom shine and provide lasting protection from environmental hazards.
Contact Us
Fill out this form, and we'll be in touch with you as soon as possible!
Unlike traditional carnauba wax, ceramic coatings form a much stronger chemical bond with surfaces for superior protection. The nanotechnology provides a harder, more durable layer that better withstands washing, rain, and environmental elements.
Ceramic coatings also offer greater longevity of 6-8+ months compared to 2 months with wax. The coatings enhance gloss through deeper reflective qualities and make maintenance easier by repelling liquids, dirt, and debris.
Enhanced Protection
Our professionally applied ceramic coating provides enhanced protection for your vehicle's exterior surfaces. The nano-ceramic layer repels water, snow, sap and other liquids that can stain and damage paint. It also resists UV rays, oxidation, corrosion, bird droppings, tree sap, salt and other hazards that degrade your finish. Our ceramic coating shields your paint for prolonged durability.
Easier Maintenance
The slick ceramic coating makes regular maintenance easy by preventing contaminants from bonding to your vehicle's exterior surfaces. Dirt, dust, mud, and other debris will easily rinse off with water rather than sticking to your paint. This allows you to keep your car clean between washes without extensive scrubbing or harsh chemicals. Our ceramic coating simplifies upkeep.
Increased Durability
Unlike traditional wax that lasts 1-2 months, our ceramic coating provides 6-8+ months of durable protection. The nanotechnology within ceramic material allows it to chemically bond to your paint for prolonged longevity compared to wax applications that eventually dissolve. This increased durability saves you time and money, while also enhancing and preserving your car, truck, or SUV's exterior for longer between detailing services.
Frequently Asked Questions
Puyallup's Premier Ceramic Coating Shop
Diamond Detail has been the premier provider of ceramic coating and detailing services in Puyallup since 2013. We professionally prep and apply ceramic coating for optimal bonding and longevity.
We also exclusively use Gtechniq products for their innovative, science-backed ceramic coatings. Our priority is delivering exceptional service by recommending the optimal ceramic coating for your vehicle's needs.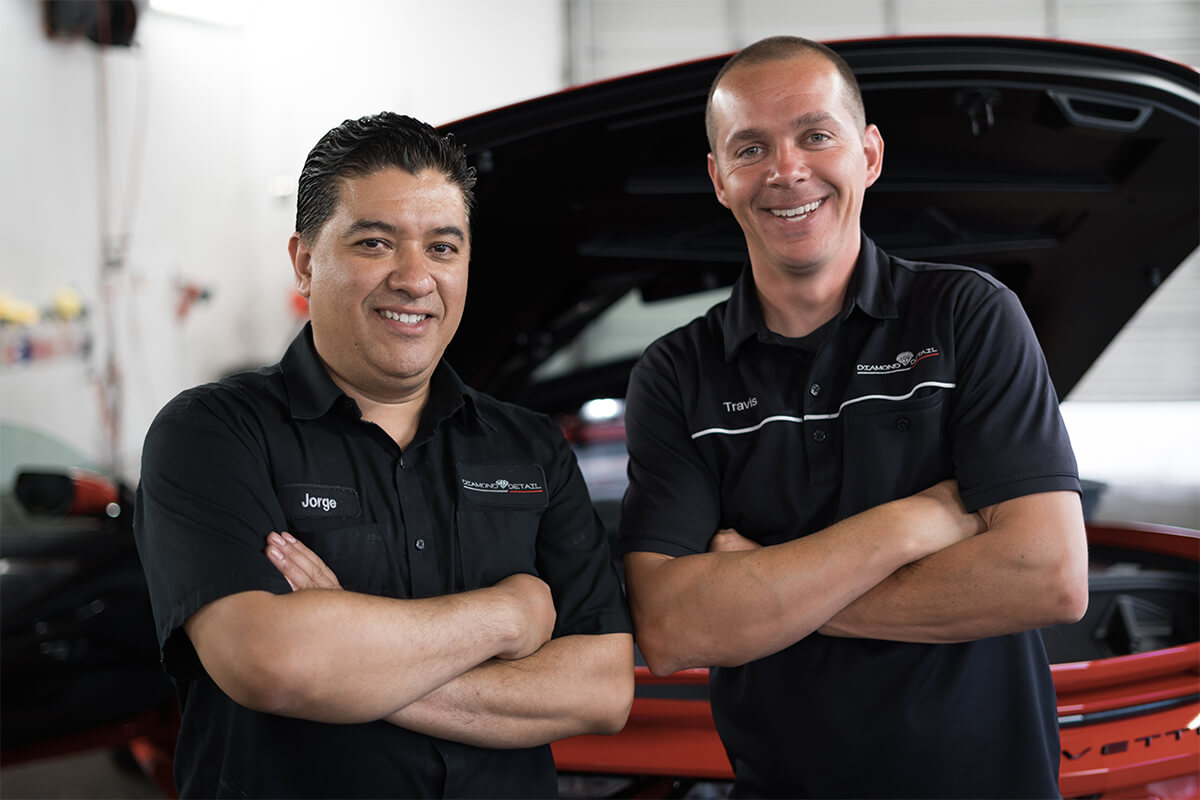 Additional Services in Puyallup, WA
Comprehensive detailing and protection for whatever you drive.